Transforming your Denver backyard into a cozy, inviting space has never been easier with our picturesque fire pits.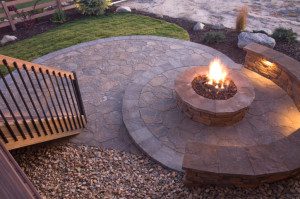 What makes fire pits such a great addition to your backyard? It seems that something as simple as a fire pit wouldn't add that much to your outdoor space, but in reality, fire pits can create a simple, beautiful focal point and a place for your friends and family to gather. Our team at Lake Norman Signature Pools & Patios is ready to help you add elegant, affordable fire pits to any of your outdoor spaces in Davidson, North Carolina.
If you are looking into fire pits and adding one in your backyard, we can help. We have a wide variety of materials and colors for your fire pit, so you can choose something that will work well with the rest of your indoor and outdoor décor. You will also be able to choose the size, how much seating you want, and many other aspects about your fire pit. We take this customized approach because we know each backyard is different and may require a unique fire pit. With such a great range of options for your fire pit, you'll be sure to find something that fits your personal style and budget.
We can make your dream pool come to life!
Your Davidson backyard will be transformed with a luxurious fire pit. Neighbors, family, and friends will love spending time together in a cozy, inviting atmosphere. With a warm fire and comfortable seating for everyone, you will make unforgettable memories around your fire pit with the people you care about. Contact our team at Lake Norman Signature Pools & Patios today to get started on your new fire pit!
---
At Lake Norman Signature Pools & Patios, we proudly build fire pits in Davidson, Mooresville, Cornelius, Denver, Huntersville, and Lake Norman, North Carolina.