Many people who have swimming pools use them primarily for relaxation or entertaining. If this sounds like you, you can further enhance these experiences with great pool landscaping. The landscaping around your pool provides a design opportunity to take your pool from an ordinary patio to a true piece of paradise. We at Lake Norman Signature Pools & Patios provide expert pool landscaping services, so we know how to get the results you deserve. Pool landscaping does have some particular considerations, so in this article, we will go over some tips to make your pool landscape a success.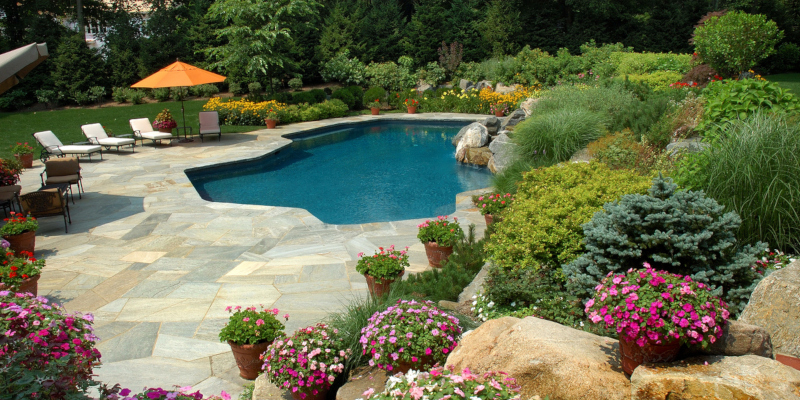 Plant Selection- One of the keys to great pool landscaping is selecting the right plants. Flowering or fruit-bearing plants may be beautiful, but planting them too near your pool can leave you with an endless stream of litter to clean out of the water. Another thing to avoid is plants with brambles or thorns—you don't want to get scratched and then expose that wound to your pool water. The ideal plants for pool landscaping will be hardy and low maintenance, so that you can spend less time working on your pool and more time enjoying it.
Ultimate Size- Something else to keep in mind when pool landscaping is the ultimate size of your plants. While plants in your local nursery may look small on the lot, their mature size may be much larger. Consider the size of your flowerbeds and choose plants that will fill the space but not overcrowd it when they are fully grown.
Native vs. Exotic- Many people envision their pool landscapes as a tropical paradise filled with hibiscus flowers and banana trees. However, these plants are best suited to their own environment, and will not fare well in more temperate zones. To keep your pool landscape looking its best, it's a good idea to choose plants native to your area, as they are adapted to local climate conditions. You can find native plants at your local plant nursery.
If you would like additional help creating your ideal pool landscape, consult with our experts at Lake Norman Signature Pools & Patios.