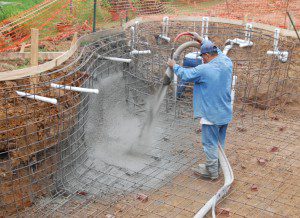 Often the desire to have a backyard swimming pool hits us the hardest when we're in the heat of the summer. We want a pool, and we want it now! Unfortunately, pool installation takes quite a bit of planning and time to complete.
It will significantly help your pool installation to go faster if you go into the project knowing what you want. Do you want a wading area or a diving board? Are there any water fixtures you have in mind? Do you want a hot tub installed alongside the pool? Do you know what type of materials you want to use in your pool? When you contact your pool installer, you want to have a clear picture of what you have in mind for your pool. This will allow your pool installer to get to work faster without having to wait around for you to make decisions as the installation progresses.
When pool installation begins, it can be intimidating to see a big hole in your backyard and the huge mess that goes with it. It won't last long, though. Most pool installations can be accomplished in just a few weeks, but some may take longer, depending on what type of custom work you are having done or any hang ups that come your way. To be safe, you should plan on about a month for your pool installation.
No matter how eager you are to jump into your refreshing pool, don't rush the process. You want your pool installation to be done correctly. This will save you a big headache in the future if you have to go back and have work redone. Having a few extra days of swim time isn't worth the cost of cutting corners on the pool of your dreams.