Inground swimming pools have become increasingly popular in recent years and if you have decided you are ready to make this upgrade to your backyard, you may be wondering what would be the best type for your design ideas and budget.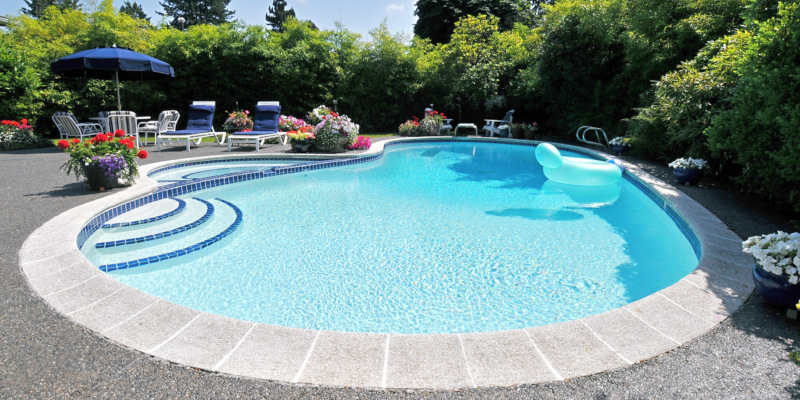 Concrete. Steel-reinforced concrete has been around for many years and is considered to be one of the strongest and most long-lasting types of inground swimming pool, due to the fact that rebar and concrete do not corrode or oxidize. After a framework of steel is built, concrete is poured and then sealed with plaster, which can be re-applied as needed and even upgraded to an alternative to plaster like pebble or glass aggregates and tiles. Another defining feature of a concrete pool is the fact that it can be made into virtually any shape. The cost will typically be higher than other types and takes much longer to build. However, the end-result will be an addition to your backyard that will last for many years.
Fiberglass. Fiberglass is the middle of the road when it comes to the cost of inground swimming pools. While easy to install and low maintenance, the biggest drawback is when it comes to size and shape. This type of pool cannot be customized and must be transported as one piece as it is made in a factory and then shipped to your home. Most manufacturers only produce a few colors and shapes. Fiberglass pools are also susceptible to cracking and fading.
Vinyl Liner. There are two main types of vinyl liner pools. The first is made with galvanized or stainless-steel panels and the other with cement. Once the exterior is built with either stainless steel or concrete, a vinyl liner is installed which can be cut to fit any shape. While both types of vinyl liner pools are less expensive than steel-reinforced concrete and fiberglass pools, a major downfall of a steel wall vinyl liner pool is that it can eventually corrode and oxidize. The vinyl will also break down over time as well as being susceptible to punctures.
If you feel that inground swimming pools can add to the beauty and functionality of any backyard and would be interested in learning about all of the available options, please call us at Lake Norman Signature Pools & Patios today!