One of the questions that our customers here at Lake Norman Signature Pools & Patios ask us the most is what steps are involved in designing custom swimming pools. Since there are many things to consider during the planning stage, we thought it might be helpful to share some insight into the four aspects you'll need to consider and why they are so important.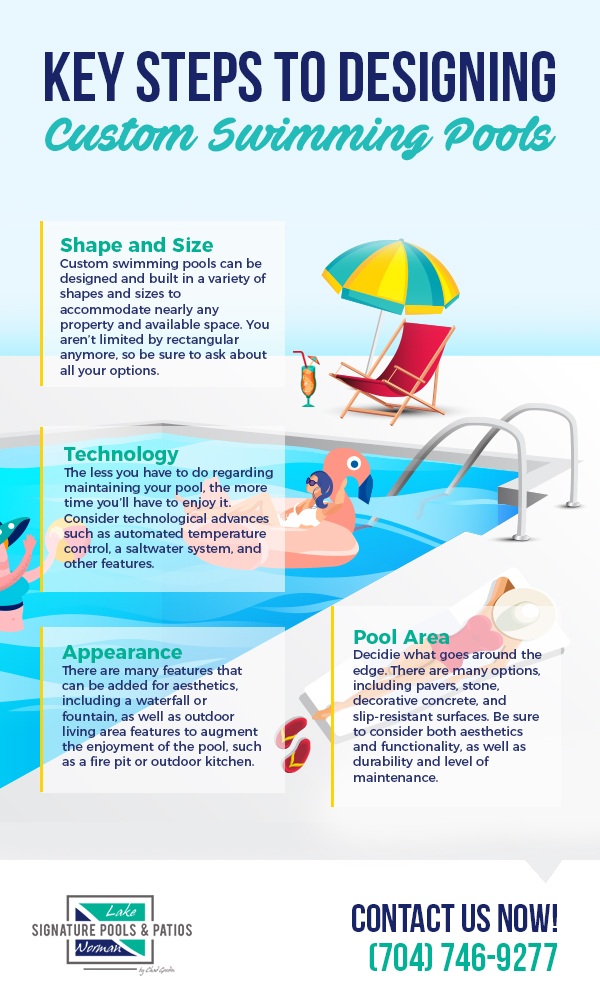 1. Shape and Size– Custom swimming pools can be designed and built in a variety of shapes and sizes to accommodate nearly any property and available space. You aren't limited by rectangular anymore, so be sure to ask about all your options.
2. Technology– The less you have to do regarding maintaining your pool, the more time you'll have to enjoy it. Consider technological advances such as automated temperature control, a saltwater system, and other features. In addition, focus on energy-efficiency to keep your utility bills manageable.
3. Appearance– There are many features that can be added for aesthetics, including a waterfall or fountain as part of a custom swimming pool, as well as outdoor living area features to augment the enjoyment of the pool, such as a fire pit or outdoor kitchen.
4. Pool Area– Deciding what goes around the edge is the last step in designing a custom swimming pool. There are many options, including pavers, stone, decorative concrete, and slip-resistant surfaces. Be sure to consider both aesthetics and functionality, as well as durability and level of maintenance needed to keep it performing for years to come.