It takes more than a luxury beach lounger to feel pampered outdoors. A lot of key factors play into the feel of your environment when you step outside your home. Here at Lake Norman Signature Pools & Patios, we are happy to help you consider what you are looking for in a custom swimming pool from the very beginning of the process. We can help you decide between a new pool or a pool remodel. Though we specialize in the installation of new custom swimming pools, we are also able to assist you with a pool remodeling project.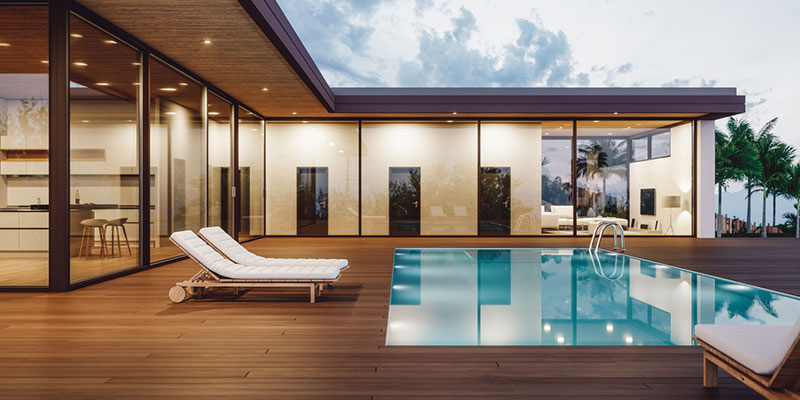 The "deck" of a pool can be made of various materials, as you well have seen in your vacation traveling and around your neighborhood. By definition, the pool's "deck" is the area immediately surrounding the pool area, whether it be an inground pool or designed otherwise. This deck area (another word for this area is called the surround) creates the look and feel of the pool area. Some may like the look and feel of wood around their custom swimming pool, which may give the feeling of a cruise ship or nostalgia of sunbathing on a wooden deck with the warm glow of the sun off of the wooden feature. These sorts of decks, like any woodwork, are going to require some additional maintenance for upkeep. But that doesn't mean you have to fully forgo this look while prioritizing function.
Beautifully stamped and stained concrete patio for your pool's deck area is able to meet a nice reproduction of a wood look, while increasing the level of functionality the patio needs to create a safe path to and from the pool area, and when enlarged also creates ample space for you to add a lounger, or several. This is usable space, but space where you want the areas completely covered with hardscaping for functionality. Though wooden surround truly looks great at first glance, it may be more slippery when wet and the natural grooves between sections may cause a more severe tripping hazard for small toes. In the end, you also want a look that blends well with your stylish and modern home and is resistant to deterioration by the outdoor environmental conditions in your location year-round.
Consult with us to see if our pool patio options are what you are actually looking for as part of your custom swimming pool conceptualization.