Our designs for outdoor kitchens in Denver are functional, luxurious, and affordable.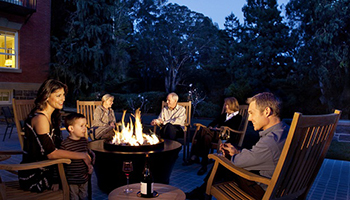 Are you looking to make your backyard in Denver, North Carolina a more functional and inviting space? Do you want to entertain more guests in an area that feels comfortable and luxurious? One of the greatest ways to create a functional, beautiful backyard is to add an outdoor kitchen. Well-designed outdoor kitchens are great for entertaining and feeding large groups of people, and they can be a great addition to any home. At Lake Norman Signature Pools & Patios, we want to help you create an outdoor kitchen that you will use for years to come.
Not only are outdoor kitchens great for entertaining, but they come with several other benefits as well. When the weather is hot and humid, the last thing you want to do is heat up the house by cooking a meal. Cooking outdoors makes it easier to prepare and enjoy delicious meals without altering the indoor temperature. As a result, your utility bills tend to stay lower, even when it's hot. Certain smells can infiltrate your whole home when you're cooking, such as fish and vegetables. By cooking these tasty food items outside, you don't have to worry about smelling the odors for hours or days within your home.
Adding an outdoor kitchen can also increase the value of your property. A functional and beautiful outdoor cooking space will make your property more appealing, should you choose to sell it in the future. Many people appreciate the option to cook outside, especially when the space has more than just a barbecue grill. A larger outdoor kitchen can include prep space, a place to keep food cool, and even a sink, if you choose to add plumbing. Grilling food is also a healthier alternative to other cooking methods, helping you to eat lighter while enjoying restaurant-quality food.
Lake Norman Signature Pools & Patios can meet all of your pool-building needs.
One of the best things about outdoor kitchens is that you can customize them to fit your needs. Our team can help you pick out materials and styles that will look great and bring the indoor style of your home to your backyard. You can also decide what cooking appliances you want in your outdoor kitchen, like wood burning or gas stoves. At Lake Norman Signature Pools & Patios, we have the experience necessary to provide you with advice and suggestions on the best ways to set up an outdoor kitchen. Each space is different, and we want to take your personal style and vision for your backyard and combine it with our experience and professional advice to give you the outdoor kitchen of your dreams. With so many options, you can be sure to find something you love that doesn't break your budget.
Don't wait to call us at Lake Norman Signature Pools & Patios to get started on your outdoor kitchen in Denver. We have extensive experience designing many outdoor kitchens for our long list of satisfied customers and will do our best to ensure you love the design. We look forward to working with you!
---
At Lake Norman Signature Pools & Patios, we proudly build outdoor kitchens in Denver, Mooresville, Cornelius, Davidson, Huntersville, and Lake Norman, North Carolina.