Our designs for outdoor kitchens in Denver are functional, luxurious, and affordable.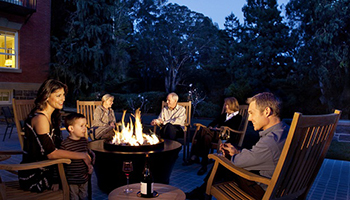 Are you looking to make your backyard in Denver, North Carolina a more functional and inviting space? Do you want to entertain more guests in an area that feels comfortable and luxurious? One of the greatest ways to create a functional, beautiful backyard is to add an outdoor kitchen. Well-designed outdoor kitchens are great for entertaining and feeding large groups of people, and they can be a great addition to any home. At Lake Norman Signature Pools & Patios, we want to help you create an outdoor kitchen that you will use for years to come.
One of the best things about outdoor kitchens is that you have the ability to customize them to fit your needs. Our team can help you pick out materials and styles that will look great and bring the indoor style of your home to your backyard. You can also decide what cooking appliances you want in your outdoor kitchen, like wood burning or gas stoves. At Lake Norman Signature Pools & Patios, we have the experience necessary to provide you with advice and suggestions on the best ways to set up an outdoor kitchen. Each space is different, and we want to take your personal style and vision for your backyard and combine it with our experience and professional advice to give you the outdoor kitchen of your dreams. With so many options, you can be sure to find something you love that doesn't break your budget.
Don't wait to call us at Lake Norman Signature Pools & Patios to get started on your outdoor kitchen in Denver. We have experience designing many outdoor kitchens and will do our best to ensure you love the design. We look forward to working with you!
---
At Lake Norman Signature Pools & Patios, we proudly build outdoor kitchens in Denver, Mooresville, Cornelius, Davidson, Huntersville, and Lake Norman, North Carolina.