Whether you are in the beginning stages of installing a pool or looking to give your pool a facelift, pool landscaping should be a part of your design process. Your landscaping changes the mood and atmosphere of your backyard.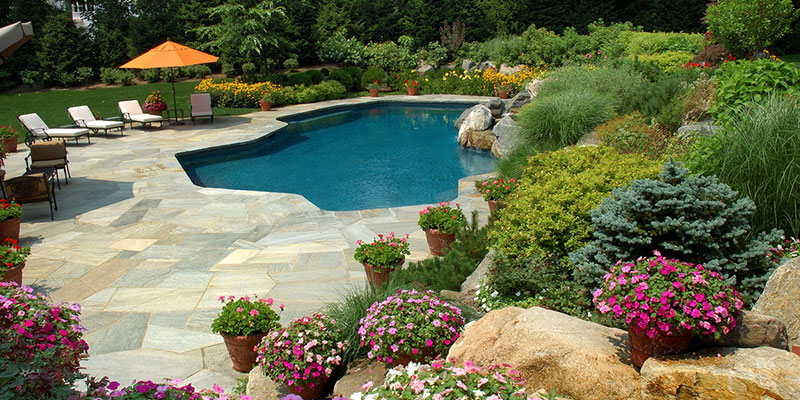 Here are a few tips on how to enhance your pool landscaping:
Lighting. The use of light will draw the eye to the desired feature, especially at night. Use flood lights or spotlights to highlight shrubs, trees, water features, or anything unique in your pool. This will move the eye around the pool, enlarging the patio while creating a private and intimate atmosphere. Another option for lighting is string lights. String lights are both highly functional and whimsical and help create a cozy ambiance.
Planters. Use planters to showcase your preferred plant style. If you prefer a tropical oasis, you may want to add small palm trees or banana leaf trees. If you like a natural, colorful style, you may enjoy orchids, hibiscus, ornamental grasses, ferns, or large creeping shrubs. For a sleek and minimalist style, consider succulents like jade, hebe, echeveria, or agave plants. Use the appropriate planter size for your pool.
Natural Stone. Natural stone can be used to build a rock retaining wall, raised flower beds, or a waterfall feature. Stone can also be used as pavers for walkways connecting the pool to other parts of the yard. Do not underestimate the beauty natural stone can bring to your pool landscaping.
Shaded Lounge Space. After playing in the sun in the pool, you or any of your guests will enjoy relaxing in loungers or a sofa that is shaded. You can create shade with a sail shade, cabana, pergola, or umbrella.
The landscaping possibilities are endless! Give us a call at Lake Norman Signature Pools & Patios, and we will help you narrow down and define your landscaping goals and designs.