Having a home swimming pool is both fun and functional. Why not make your pool more than just fun and functional? Here at Lake Norman Signature Pools & Patios, we strive to make your home pool a luxury oasis in your own backyard. There are many ways to turn your backyard from functional to a dreamy luxury retreat. Below are some of our top favorite ways to achieve that high-end oasis.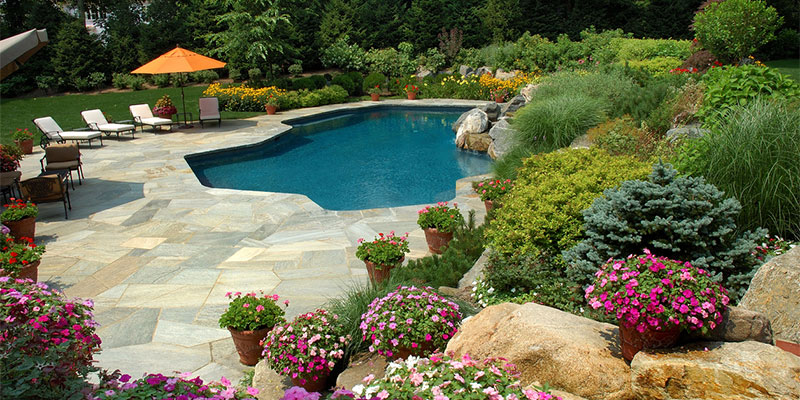 Vegetation – There are endless options for your poolside vegetation. Depending on what look and feeling you are trying to achieve, you will want vegetation choices to complement that look. We recommend doing a combination of several different types of vegetation to achieve your pool landscaping goals. There are creeping plants, flowering plants, tropical plants, grasses, trees, hedges, and shrubs.
Stunning containers – A container can be a large pot, vase, or a containment made out of wood or stones. A container can add a punch of color and contrast to your pool landscaping. We recommend having a rock star plant that stands out above all the other plants in the container, medium height flowers or plants, and trailers that grow over the edge of the container.
Elegant privacy – One of the main goals of pool landscaping is to add privacy to your pool area. There are many more options than a simple and plain privacy fence. We recommend planting large trees, decorative hedges, stunning rock walls, and dazzling water features. To increase the interest and beauty of your pool landscaping, we recommend doing a combination of these elegant and stunning privacy options.
We would love to help you achieve your pool landscaping dreams. Whether your landscape plans are big or small, we are here to help you.