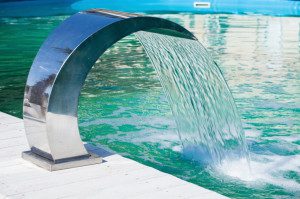 Having a swimming pool in your backyard can be a pleasant experience, but sometimes the usual rectangle design does not create the ambience you desire. Creating custom swimming pools guarantees that your dreams and hopes for a swimming pool can become a reality. Designing and constructing your custom swimming pool is not as difficult as you may think; you simply need the vision and an experienced contractor from Lake Norman Signature Pools & Patios.
Your swimming pool designer/contractor will be able to take the detail you desire in a custom swimming pool and draw it out for you. By working together, you can make sure the swimming pool being built is the one you will always be happy with.
Custom swimming pools are a great way to show off your creative style, and you can take pride in your composition becoming a unique and tangible reality. Family, friends, and other pool guests will appreciate the creativity that went into such a beautiful space.
Not only can you design your swimming pool, but you can also model the decking and landscaping to fully create your dream oasis. Whether you want wide decks for sunbathing, or hope to create a private and lush garden around your pool, there are no limitations.
If you live in Mooresville, North Carolina and are interested in custom swimming pools and bringing your own into existence, our team at Lake Norman Signature Pools & Patios would love to help. We have unmatched expertise and pride ourselves in our quick and thorough services. For more information, please contact us.