Inground swimming pools can enhance the aesthetics of any backyard in the Lake Norman, NC area.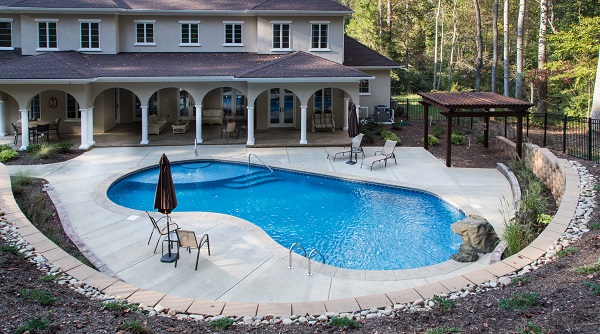 Inground Swimming Pools in Lake Norman – An in-ground swimming pool is a type of pool that is directly inserted into the ground. Inground swimming pools are extremely popular because of they can give any backyard a resort-like feel. If you're ready to improve the aesthetics of your backyard and add value to your home with an in-ground swimming pool, our team at Lake Norman Signatures Pools & Patios is here to help.
We have been installing inground swimming pools in the Lake Norman, North Carolina area for several years.
Additionally, we realize that the only reason why our operations have grown so much over the past few years is because we are dedicated to our customers. For these reasons, you can rest assured that we'll do the job right when you turn your pool installation job over to us. We encourage you to keep in mind that while we do have standardized options for inground swimming pools, we can also customize your pool according to your specific needs. For example, if you want your pool to be a certain size or for it to include certain features, we will make sure that your specific needs are met. We do this to ensure that you are completely happy with your new pool once it's done.
If you want to know more about inground swimming pools, why they're beneficial, and what it takes to install them, give us a call at Lake Norman Signature Pools & Patios today. We look forward to hearing from you and helping you create the pool of your dreams.
---
At Lake Norman Signature Pools & Patios, we proudly install inground swimming pools in Lake Norman, Mooresville, Cornelius, Davidson, Denver, and Huntersville, North Carolina.