Transforming your backyard into a functional outdoor living space is a project that will dramatically enhance the enjoyment of your home. With the right elements in place, you can spend time in the fresh air and sunshine while hosting al fresco events for neighbors, family and friends. But to maximize this experience, there are two must-have features: an outdoor kitchen and a fire pit.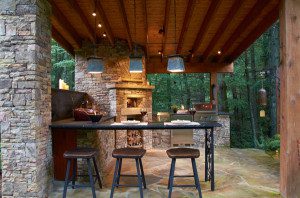 Creating another kitchen doesn't only save you the inconvenience of countless trips back and forth between the indoor refrigerator or stove and the grill; it also creates a beautiful outdoor living space. Whether on a rooftop in the city or in the backyards of the suburbs, outdoor kitchens are growing in popularity because they make cooking feel more like a pleasure, instead of a chore.
Next is the fire pit. The biggest benefit, without doubt, is the entertainment factor. Nothing says 'cozy gathering with family or friends at night' quite like a fire pit. The ambience alone is worth every penny of your investment. Plus, it's a great way to open out your outdoor entertaining space even more.
And, don't forget about the significant value that an outdoor kitchen and fire pit will add to your home, should you ever decide to sell. They are both aesthetically pleasing, functional outdoor living elements that will make your house stand apart from others.
For all your outdoor living needs in the Mooresville area of NC, contact us at Lake Norman Signature Pools & Patios today!