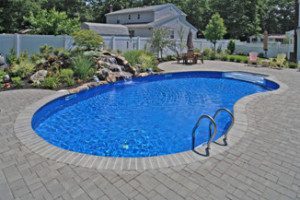 Your swimming pool is not truly complete until the decking that graces the pool area is finished. A beautiful swimming pool deserves a deck to match. With pool deck paving, you will need to choose the style and design you are hoping to create and consider the maintenance you are willing to provide.
When considering pool deck paving, there are a few options to choose from, including stamped concrete, stained concrete, and pavers. Each of these choices comes in different styles and colors, so you can allow your creativity to take over.
Stamped concrete can be patterned, embossed, or textured to look like tile, wood, brick, stone, etc. Stamped concrete lasts longer than paved stone and will be easier to maintain. This paving material can be used for pool decks, driveways, sidewalks, and even interior flooring.
Stained concrete can resemble polished marble, stained wood, leather, or stone. This effect takes place by staining the concrete with an acid stain that penetrates the surface of the concrete and reacts chemically with the calcium hydroxide in the concrete. There is a very broad spectrum of hues available, and colors may even be mixed for a more unique effect.
One of the most common pool deck paving mediums is pavers click site. Pavers can be concrete, brick, rubber, or grass. Rubber is commonly used for children's playgrounds to help ease injury after falls. Pavers can be used to create beautiful and complicated designs, or even the most basic. By applying a paver sealer after the pavers have been laid, you will avoid color loss and weed growth, while gaining a deeper color and more detailed design from the pavers.
If you are located in Mooresville, North Carolina and would like more information on pool deck paving, our team at Lake Norman Signature Pools & Patios would love to help you. For more information please call us today.