Is your swimming pool looking less than ideal? Maybe it has been a few years since your pool was installed and now it's looking a little worn down. Did you have big dreams about installing a new pool, and now it isn't looking like the dreams you had hoped for? We are here to help you achieve that dream pool you've always wanted. Below are just some ideas of ways we can help you with your swimming pool remodel to bring to life your dream pool.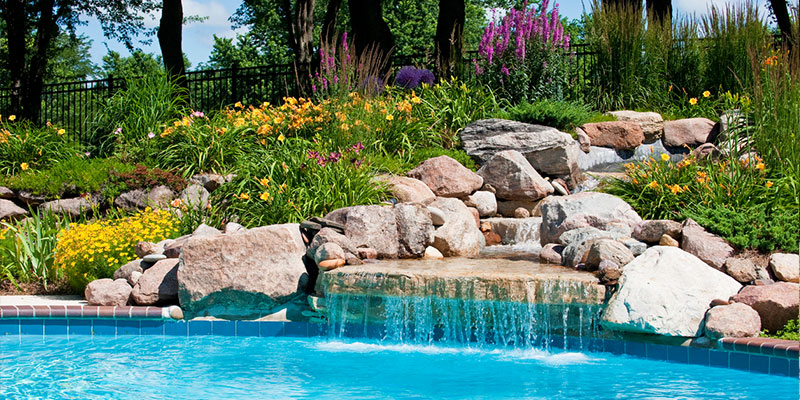 Waterfalls – Waterfalls are beautiful to look at as well as listen to.
Stone decking – There are many options and designs to choose from to help make your pool area unique and inviting.
Beach entry into your pool – A beach entry allows you to gradually wade out into your pool. This is ideal for kids and elderly, but also fun for everyone.
Underwater LED lighting – LED lighting can help to set the mood in your pool. It will give it that extra feature that will make your swimming pool extra special.
Pool deck pavers – Pool deck pavers add beauty and elegance to your pool deck.
Fire pits – Roasting hot dogs, warming up after a midnight dip or just sitting and watching the flames will add enjoyment to your backyard and pool area.
Patios and decks – Patios and decks add another useable space to your backyard. They can direct people to the pool area or provide a space to barbeque and suntan.
Landscaping – Adds beauty and interest to your pool area, as well as privacy from neighbors.
Outdoor kitchen – Outdoor kitchens are stunning and functional. You are adding another room to your home when you install an outdoor kitchen.
Here at Lake Norman Signature Pools & Patios, we are experienced in all kinds of swimming pool remodels. We understand and know how to turn a simple and plain swimming pool into a backyard oasis. Give us a call today to schedule your swimming pool remodel.