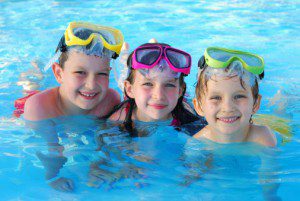 Having a swimming pool in your backyard can mean fun for the whole family. However, if you're like many parents with swimming pools, you want to make sure your kids are safe around the water at all times. To make sure that this happens, you should:
Secure your pool area with a barrier — Although some parents with younger children need to put up fences around their swimming pools, others may simply benefit from placing a pool cover over the water when their pool isn't in use. When determining what type of barrier to use, consider your children's ages and their swimming abilities.
Watch your children at all times — When you are watching young children swim, make sure you constantly keep your eye on them. If you have to step away from the pool for a minute, have another adult come and take your place.
Teach your kids to swim — Once your children are old enough, enroll them in swimming lessons, or spend some time out in the pool teaching them to swim yourself.
Establish rules for using the swimming pool in your backyard — For instance, you may want to tell your children that they are not allowed to go swimming when you aren't home.
When it comes to swimming pools, making safety a priority can help you enjoy your pool even more. If you have any questions about swimming pools or what you can do to keep your kids safe, get in touch with us at Lake Norman Signature Pools & Patios.